Words Without Border Campus is the educational sister site to Words Without Borders, the online magazine for international literature. The Campus site, geared primarily toward high school and college classrooms, draws from Words Without Borders' rich archive of literature-in-translation and organizes it into national and thematic units, customizable to a range of courses and interests. Educators will find an array of resources to accompany each unit and reading, including contextual resources, background information, teaching ideas, and author and translator interviews. The site also houses a blog with news, updates, and reports from classrooms around the world.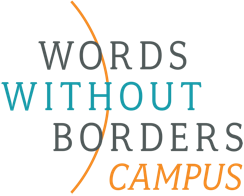 Visit Words Without Borders Campus
Words Without Borders Campus is openly licensed.